Mom & Sons Romantic Date Love Making – Fifi Foxx Fantasies
This clip includes: Cock Ninja, mom/son, mom is excited & nervous about her date, has spent hours getting ready, date cancels & mom is upset, son comforts her, son asks mom to dance w/ him, son wants to be mom's date, passionate, romantic, dancing, sensual kissing affectionate, making out, tit groping, nipple licking/sucking, clit rubbing, making love, sex, missionary, doggystyle, multiple sex positions, creampie, cum in pussy, song by Jon Patrick McClaren**
"I have a date, I have a date," I could hear Mom happily saying to herself in the other room. It had been years since she last went out, and I was so happy for her. To finally see her smile after so many years of taking care of me was amazing – she truly deserved it.
Mom blushed when I told her she looked gorgeous. "Really?" she smiled shyly. I could tell she had spent hours getting ready. Her hair was straightened, her blue eyes popped with her black mascara, and she had a cute, short, navy dress on.
Mom was genuinely happy. "I'm so excited, so nervous.I have butterflies," she said sweetly. She left to wait in the living room, and all I wanted was for everything to go perfect for her.
I heard the phone ring, and when I came in, I saw Mom's mood had completely changed. Turns out that her date had cancelled on her, and now she was upset. It broke my heart. What kind of idiot cancels at the last minute?
Mom's voice cracked, her eyes watered up, but she still looked so beautiful. I could tell she really wanted this.to feel pretty, to be appreciated.to be loved, and I was going to make sure she had the good night that she had planned.
"You don't deserve to feel this way, Mom," I said placing her hand into mine. And I meant it. My mom was selfless – she did everything for everyone else, but never did a thing for herself. I flipped through a list of songs on my phone and picked one, held my hand out to hold hers, and told her, "I'll be your date – dance with me, okay? You do look beautiful and you put in all this effort, don't let it go to waste."
It was sweet. Mom was blushing, and we were slow dancing. She spilled out her insecurities, and I was there to comfort her.to make her feel like she wasn't alone. I don't know how it happened, but I found my lips pressed against hers, my hand against her cheek.
"I'm sorry, but the moment seemed right," I said quickly in reaction to her confused face. I went in again for another kiss, and I felt her give in.she wanted it, too
Keywords: Taboo, MILF, Fucking, Creampie, Older Woman / Younger Man
Starring: Fifi Foxx
File Information :
Size: 1.8 Gib
Duration: 00:19:00 min
Resolution: 1920×1080
Format video: mp4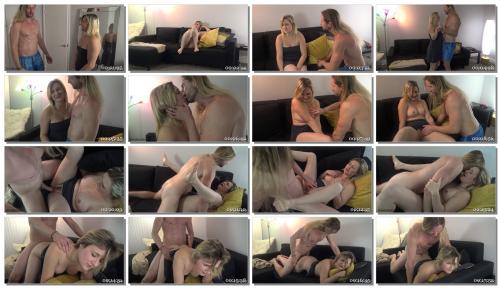 0454_Mom & Sons Romantic Date Love Making – Fifi Foxx Fantasies_.mp4